GARAGE DOOR INTRO
The availability of different garage door designs have expanded exponentially, with designs going beyond the traditional raised block panels. New styles range from sleek, contemporary, modern, and of course, there is everything in between with the ability to customize through textures and custom colours that complement the home, including Golden Oak Timber coating. Garage Doors are available in an extensive range of material, including Alu-Zinc Steel, Wood, Composite Material, Aluminium & Glass.
There are numerous factors to consider when selecting a 'garage door' for your home. Many Homeowners are faced with a 'garage door' dilemma. The eyes are not the window to the soul – the garage door is! The style of your garage door is incredibly important for your overall home's appearance. The care in planning is certainly worth it and can add a high investment return. Due to the enormous curb appeal improvement, you gain when you choose a garage door that complements your home's architectural design. Your garage door provides an opportunity to make a positive, memorable first impression.
Choosing the right material for your garage door requires a mix of functional, cost and aesthetic considerations. Homeowners have a wide choice of materials and styles available to them, so it is usually an easy solution to find the perfect door. Aluminium & Steel are the most common used materials, preferred because of its durability, strength, corrosion, and rust-resistant properties. A large  number of homeowners fall in love with the look and feel of natural wood, which is perfectly understandable. Wooden garage doors are a popular choice when deciding on garage doors because of their aesthetic look, durability, and customization in a variety of assorted styles and types making it possible for anyone to purchase a wooden garage door regardless of budget.
You need to take your lifestyle factors into account when choosing a garage door. When buying a new garage door, you need to ask yourself how you will use your garage. Is safety and security a priority? In that case, you need a garage door that is strong and offers privacy. If you use your garage as a showroom for your vehicles, then natural light is a big concern. You will want a door with plenty of glass to show off your beauties.
Always think about durability, safety, longevity and use an established garage door manufacturer to supply and install. This is a vital consideration to make when deciding on a new garage door!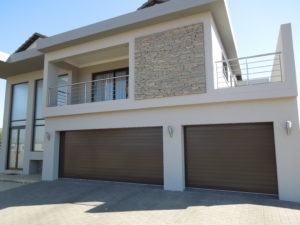 Doors Galore – Built for life
COMPLETE THE FORM BELOW AND ONE OF OUR PROFESSIONALS WILL ASSIST YOU WITH A TAILORMADE QUOTATION: